Technology for Learning

Natural is a language institute that stands out because of its technological innovation and highly personalised learning method. All of our students gain access to the "Student Space". Within it, students choose their interests and can access their exclusive content from the classroom. This means the student has everything they need in one place to continue their individual study and revision outside class time.
Get corrected in real-time
Through the student window you can visualise your corrections during class whilst your teacher explains the mistake.
Homework hand-picked for you!
At the end of each class you will get a homework task, consisting of a listening activity, a reading activity and a written response. All the content is real, authentic material, graded by level and your interests.
Your written assignments are corrected by your teacher during your class, and you'll receive a copy of the original and final version of your text.
Go through your corrections
Take a look at an example lesson
that you'll receive after each class.
Revise your content in a fun
and interactive way!
Revising content is essential to learning. So we've created games and activities to make it a more dynamic and fun experience!
Crosswords
A classic! Use your custom crosswords to go over new in-class vocabulary.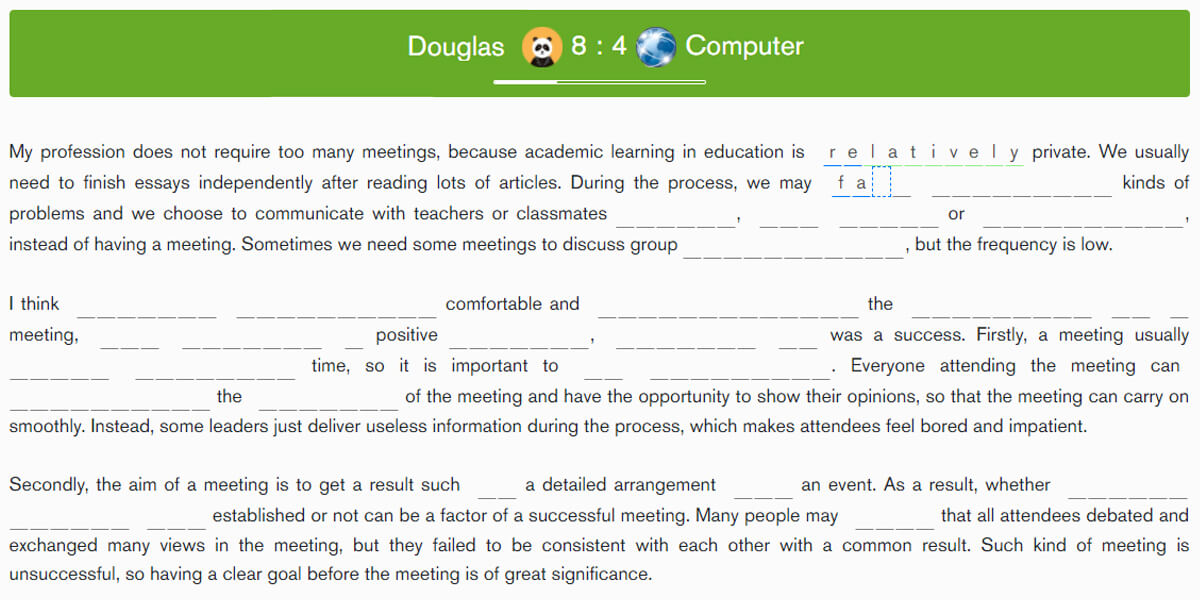 Racing Letters
Review your written assignments with this adrenaline-inducing race against the computer.
Flashcards
Flashcards are a great way to memorise new words, using the context to help. They're a very efficient tool to cover lots of vocabulary using the Spaced Repetition technique.
Grammar Rush
A game to brush up on the grammar taken directly from your classes, spot the mistake before time runs out!
Natural Spelling
Test your spelling and listening skills with your in-class corrections!